Latest Log
Related Links
All observing logs tagged with Vulpecula
Hunting for Venus and Jupiter
Venus and Jupiter were just past conjunction so I headed out to the West side of the village with a view to trying to catch them just before sunset. By the time I got set up the Sun had set and the Belt of Venus was visible. Hardly any cloud in the sky although a reasonable covering on the Western horizon.
Spent a short while scanning the horizon with the naked eye but couldn't see either of the planets.
More hunting for Venus and Jupiter
Spent a short while trying to find them with 10x50 binocular. Still couldn't see anything. With the binocular it was very obvious that there was quite a bit of cloud all along the part of the horizon I wanted to be watching.
Failed to find Venus and Jupiter
Having failed to see them (defeated by cloud on the horizon) I headed back to the house. I double checked everything with Starry Night to be sure that I'd been looking in the right place at the right time — I had. Venus would have set at around 19:37 UT so both planets would have been very close to the horizon while I was looking so they were obviously obscured by the cloud.
Out into the garden with 130M — M57
Now that darkness had really set in I set up the 130M in the garden and decided to check everything by having a quick look at M57.
Sky appeared slightly misty and dew was forming on everything very quickly. Quite a damp feel to the air.
Initially I found it very hard to find it. The problem seemed to be that the red-dot finder was way off and, even after taking some time to adjust it I was still having problems. It seems that, for some reason, the finder itself is now sat on the 'scope such that I don't have enough "slack" in the adjustment to get the 'scope and the dot lined up. I suspect I'm going to have to try and adjust how the finder sits on the 'scope so that the fine-tuning can be done with enough "slack" in the system.
Finally found M57 after a little effort and made a point of making a mental note of how far off the dot in the finder it was so finding other objects should be a little easier.
M56
Decided to hunt down M56 with the 130M. Started out with 25mm eyepiece. Found it with some trouble. It appeared to be a very small, faint, fuzzy patch. Switched to the 15mm eyepiece and it still appeared to be rather faint. Quite indistinct, no real hint of any actual shape to speak of. Couldn't resolve any stars at all.
Switched to 10mm eyepiece. Although appearing bigger it was still faint, fuzzy and indistinct. There was, however, a hint of a shape now. My best description would be that it seemed vaguely triangular.
With the 6mm eyepiece it was bigger still and the description of it with the 10mm seemed to hold true for the view with the 6mm. As globulars go M56 has to be the hardest target I've looked for yet. With some extra effort and generally with averted vision there did seem to be a slight grainy appearance to it giving a hint that I was looking at something that was composed of stars. That view came and went and was very fleeting.
Strange cloud moment
Decided to go for M27 next. Roughly lined up the 'scope on the right area and turned my back on the sky for a few moments to check a couple of charts. When I turned back the part of the sky I wanted to look at was now apparently obscured by a cloud. There was no warning of the cloud, I didn't see it coming in from any part of the sky, it just seemed to appear out of nowhere.
Then, almost as quickly as it had appeared, it disappeared. It wasn't that it moved away, it seemed to just disappear (again, while my back was turned). Also, at the same time, I noticed that the NW part of the sky had brightened compared to a little earlier (although, in this case, it didn't seem to be cloud as I could still see stars).
Most odd.
Meteor near Cygnus
While looking in that direction saw a rather bright meteor head roughly East to West just North of Cygnus.
M27
Back to hunting for M27. Took a little effort to locate — partly down to the issue with the finder and also partly down to the fact that I was looking for a small, faint fuzzy object so I was doing a very careful sweep of the general area. When it finally appeared in the field of view (initially using 25mm eyepiece) I was shocked and amazed at how large and bright it appeared!
The initial appearance was of a large, grey/blue misty patch with a very definite "dumbbell" appearance. Although the overall effect was that it was roughly circular I could see that two opposing sides of the nebula were much brighter and more obvious then the rest of the circumference.
A stunning sight!
Switched to the 15mm eyepiece. The view was even better. Slightly brighter and the "dumbbell" appearance was more pronounced. Made the following rough sketch: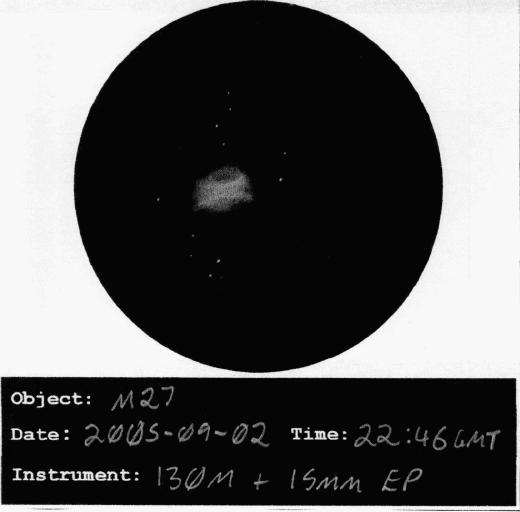 Mars
Finally, a reasonable night out with the 'scope and Mars is getting into a position where I stand a chance of seeing it. That said, I was still observing with a sky that was getting more and more misty while looking in the general direction of a bright streetlight, through a fair bit of atmosphere and with eyepieces that were starting to fog up.
Started with the 25mm eyepiece. All I could see was a non-pin-point bright object that had a hint of orange colouring to it. Next switched to the 10mm eyepiece. Now it started to look like a planet. It had an obvious gibbous phase to it and in brief moments of steady seeing (the image was swimming around rather badly) I thought I could detect a variation in the shading of the surface.
Added a #21 Orange filter to the 10mm eyepiece. Was impressed with how well it seemed to clear up the image. With the filter, in the moments if steady seeing, the variation in the colour of the surface was much more pronounced.
Next used the 6mm eyepiece with the #21 Orange filter. The "swimming" of the image was now much more pronounced so it was harder to get a handle on the image. However, on the odd occasion when the image did settle down the dark patch was very visible. It looked the same as with the 10mm eyepiece only more obvious.
By 23:25 the dew problem was starting to get pretty bad and more and more mist was forming at low level. Decided to call an end to the session.
Satellite in Cygnus
Saw a satellite in Cygnus. Moved roughly South to North along and more or less parallel with the "body stars" of the Swan. First saw it in binocular while doing a general sweep of the Milky Way and then followed it with naked eye. Was easy to see and reasonably bright. I wouldn't have put it any brighter than any of the "body stars" but I wouldn't have put it much fainter than the faintest of them.
M71
Tried to see M71 in Sagitta with binocular. I think I could see it. In the correct location I got the vague impression of a faint misty patch, quite small, and only noticeable with averted vision. Seems like a good candidate to hunt down with the telescope.
The Coathanger
By pure chance, while sweeping the area around Sagitta and Vulpecula, I stumbled upon The Coathanger. I was aware of this asterism from books but hadn't recently taken note of its location was it was a delightful surprise to stumble on it by accident. While it does sound terribly obvious it really does look like a Coathanger.
Having located it once I was very easy to locate it again in the binocular. It really is a nice sight in the binocular.
At 21:45 UT, while looking at it in the binocular, a meteor went right through the middle of the field of view.
Finished off by making a rough sketch. Note that all I did was try and draw the stars of the Coathanger itself, I didn't bother to try and draw any of the other stars in the field.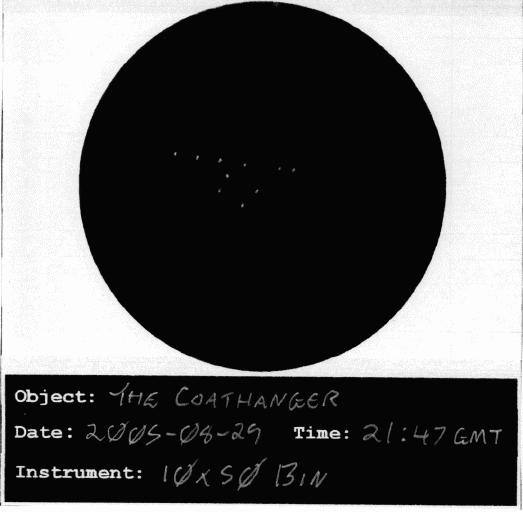 Quick look at M13
Had a quick glance at M13. It appeared to be stunningly bright tonight. I wanted to make a sketch of it as it appears in the binocular but, as I was getting the drawing gear together, some cloud moved into the area making it less obvious. Decided to leave the sketch for another night.
M39
Went hunting for and found M39 in Cygnus. Very obvious grouping of stars. Easy to find thanks to four stars, more or less in a line, close by. Best description I can give is that it looks like a loose collection of stars in a roughly triangular shape.
Double Cluster in Perseus
First noticed a "fuzzy patch" in the sky between Cassiopeia and Perseus with the naked eye. Check on charts what's there and realised that it's the double cluster of NGC 869 and NGC 884 in Perseus (also known as Caldwell 14).
Had a look with binocular. Excellent sight. The best description I can think of is that it's two star-rich groups of stars, close together, and made more spectacular by being in a pretty star-rich field anyway. Also noticed a really nice arc of stars heading away (roughly North I think) from the pair.
Mars, and end of session
By now more cloud was forming and rolling in. Decided to pack up. Just as I was packing up I noticed that Mars had risen some way above the houses to the East of me. Very bright and an obvious red tint to it. Nice to see that it's rising earlier and earlier. Just a couple of weeks back I didn't notice it until around 22:55 UT. It's starting to get to the point where there's no excuse for not getting the 'scope out and starting to observe it.