Latest Log
Related Links
2006-08-16
Sun
I started by having a look at the Sun with the naked eye and a pair of eclipse shades. I could see the largest spot in active area 904 with no trouble at all.
Next I pointed the Solarscope at the Sun. At first glance the area didn't look too different from yesterday. The biggest spot still had an impressively dark umbra and a nicely defined penumbra. Close by I could see a single, very faint spot-like mark — I didn't count this as a spot.
The smaller pair of spots that I noted yesterday appeared to be a pair of pairs today (perhaps they were yesterday but the viewing conditions made it impossible for me to tell?). Each pair appeared to have a common penumbra and the penumbras of those pairs appeared to be joined.
I quickly made the following sketch of the Sun in general: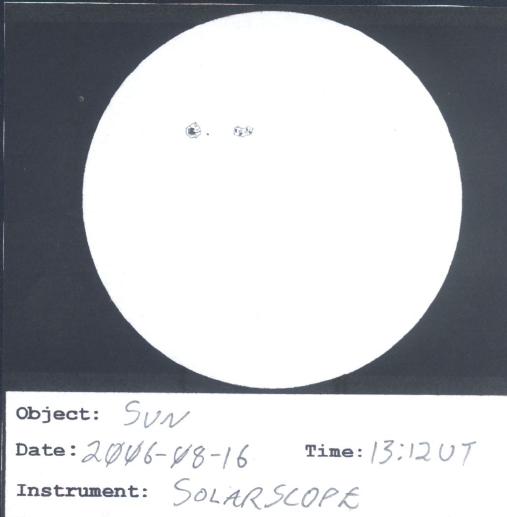 I then attempted to sketch AA904 in a little more detail: