Latest Log
Related Links
2006-04-22
Partial halo around the Sun
Sometime between 14:00 UT and 14:30 UT (I failed to make an exact note of the time) I noticed a "rainbow" effect in the sky. Thinking back I'm not sure I can make a good estimate as to its altitude but I would have said that it was reasonable close to the zenith. It appeared to be a small arc of what could have been a halo around the Sun.
I suspect it was a partial 22° halo although there is the chance it might have been a partial 46° halo. Given that I was busy with other things at the same time I didn't really think to figure out its angular distance from the Sun.
Over a noticeable period of time it appeared to "rotate" around the Sun slightly which would suggest that the clouds responsible for the effect were slowly drifting and that the effect was rather localised.
The colours were faint but obvious and I found that I could see them better with my sunglasses than with my normal glasses.
I took the following two images of the display with the camera in my mobile phone: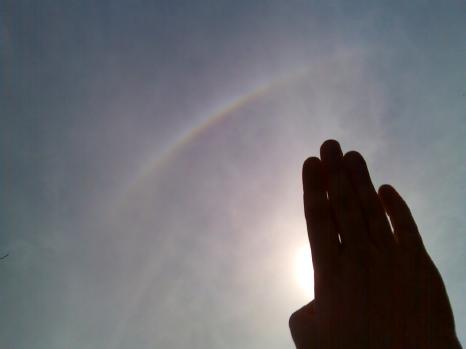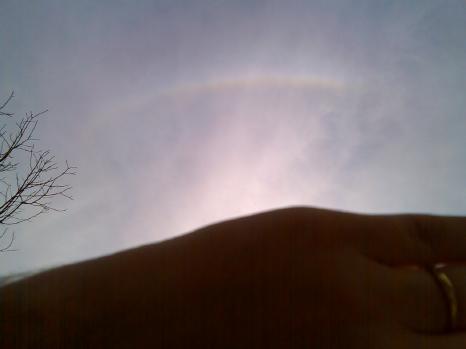 Display of atmospheric phenomena
While sat having a bite to eat in the park in Stamford I noticed that there was an even more impressive atmospheric display. At the time I made some short notes and a quick sketch of what I saw; the following is a version of the rough sketch that I made: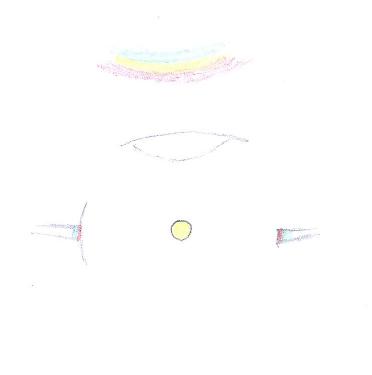 The sketch is rough and isn't supposed to show anything to any sensible scale, the angular distances are probably quite off too. The intent was to record the shapes and general locations of what I saw.
Checking with the Atmospheric Optics website it appears that I saw was, starting at the top: a circumzenithal arc with a parry arc below it. To the left and right of the Sun was a pair of sundogs. Both sundogs displayed a tail pointing away from the Sun and the sundog to the left was far brighter than the one to the right. Also, the one to the left had a very obvious vertical arc running through it.
Using the camera in my mobile phone I attempted to image each of the things I saw but all that came out were the following images of the sundogs: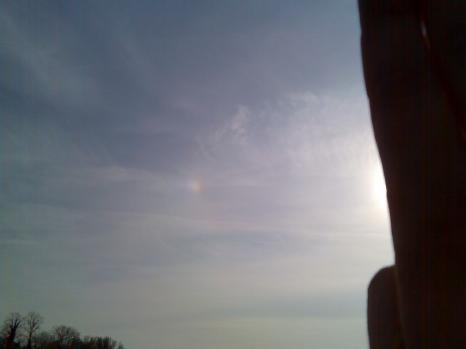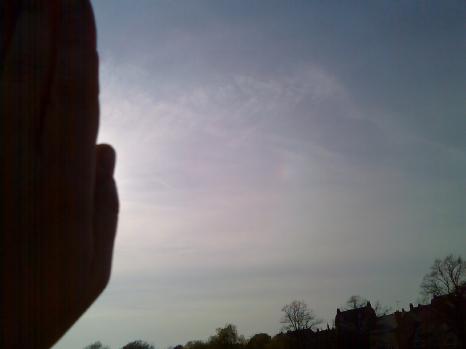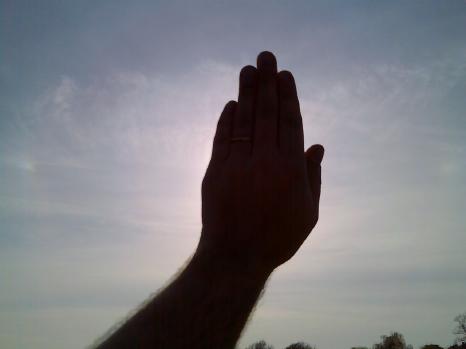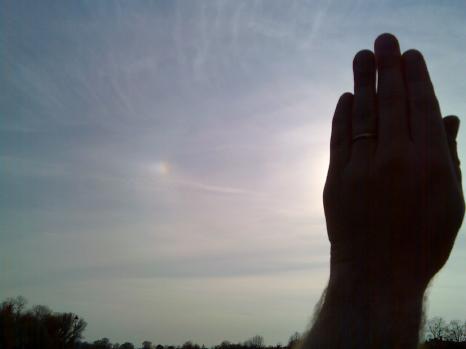 Unfortunately the images don't really do justice to what I saw, the sundogs were much more obvious than they are in the above images and were also more colourful.