2006-03-29
Partial Solar Eclipse
At the time of first contact the Sun wasn't visible. I got my first glimpse of the Sun, with the naked eye via a pair of eclipse shades, at 09:51 UT. At this point I couldn't make out any hint of the Moon in front of the Sun.
At 09:54 UT I managed to catch a better view of the Sun and, this time, the Moon was visible. The cloud was starting to thin out a little so at this point I got the Solarscope out and set it up ready in case I could get a view through it.
Around 10:00 UT I finally got a good view of the Sun via the Solarscope and I managed to take a quick image with the camera in my mobile phone: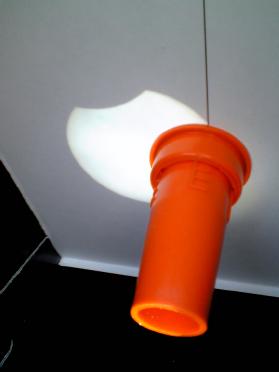 Around this time I also noticed that active area 865 (which I first noticed yesterday) had appeared to develop a second spot and that there was another spot visible, further away towards the trailing limb of the Sun, and that this appeared to be part of a different active area (later checking confirmed that this was a separate area with ID 866 ).
By 10:10 UT I'd lost any view of the Sun and could see that the cloud was getting thicker all the time. At 10:15 UT I packed up the Solarscope and table but kept them close to hand on the off chance that a hole might appear. It never did.