Latest Log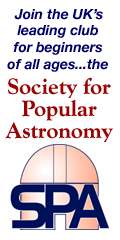 The following is a list of astronomy suppliers that I've used.
Green Witch

As well as purchasing a couple of little tools and things from them Green Witch is who sold me my Solarscope. My initial experience with them wasn't so good as some of the items I ordered weren't in stock and it seemed to take an awful lot of chasing from me to get anything done about it. However, when I purchased the Solarscope, the delivery was very quick.

Also in their favour is the fact that I recommended a friend to them when he needed a Baader solar filter sheet at very short notice and they managed to get it to him the next day (a Saturday) with no fuss or bother.

Scopes 'n' Skies

Since getting my 'scope I've used S'n'S for a number of useful add-ons. So far I've purchased a couple of eyepieces, a couple of sets of filters, a red-dot finder to replace the finder 'scope that came with the 130M and also a laser collimator to help with collimation.

Without exception I've had fast and friendly service from them. On the one occasion that they got the order wrong (they sent the wrong style of red-dot finder) they sorted the problem very quickly and even mailed me all the packaging required to send the wrong item back.

Based on current experience I wouldn't hesitate to recommend them to anyone looking for budget add-ons and tools.

South West Optics

South West Optics are the company who sold me my Explorer 130M. The price was good, the service was good and the little chat I had before "pushing the button" on the sale was good too.